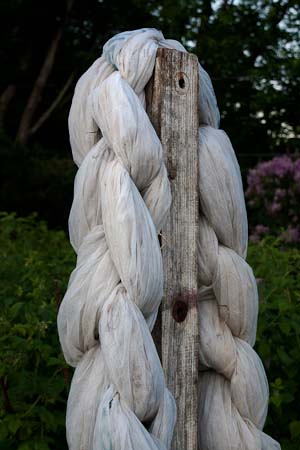 I've just finished an extraordinary two week "Make a Show" dance intensive with two choreographers, Matt Kent and Renee Jaworski, from the  Pilobolus dance company.  (This event was sponsored by the Hopkins Center, Dartmouth College and the Lebanon Recreation & Parks Department.)  Essentially, 20 of us (an interesting amalgam of movers and non-movers with an age range from 16 to 60-something) spent a total of 41 hours together doing movement improvisations with a final performance at the end. (For a few photos visit the Hopkins Center Flickr site.)
Each daily session began with a large group improvisational warm-up.  We'd then break up into different combinations of 3 to 7 people to work on developing a movement piece that came out of some improvisational theme that was given to us or that had evolved during the warm-up.  At the end of each session we would perform our pieces and receive feedback and suggestions from the group and choreographers.
Every session we worked with different combinations of people on new movement pieces, giving us multiple opportunities to create together.  Some of the pieces were successful right from the start, others needed a bit of tweaking to really work, and still others really never got traction because the group in that moment simply didn't gel.
It was an incredibly rich experience with learnings on multiple levels. What I found myself reflecting on most was how we could apply so much of what we learned in this movement intensive to any group setting.   This was a fascinating opportunity to study group dynamics and leadership styles in self-organizing systems.
Here are some of the lessons that I learned:
Speak less, listen more.
Trust your instincts.  Trust the instincts of others.
Pay attention to your "mates".  If you try something new, see if they're with you and if not, ask yourself "Do I want to be a loner, or do I want to play with the group?"
Offer suggestions and ideas, but let go of attachment to any of these if the group doesn't respond.
If you especially like something or if something doesn't work for you let the group know.
Don't try to be a star.  It's so much fun to support others.
If you do something well that you know might be in service of the project, let the group know.  It's not showing off.  It is, instead, helping to expand group possibilities.
When you get confused or lost, stop.  Stand still.  Look around.  Notice what's happening in the room. And then rejoin the group.
When you decide to do something, commit.  Make sure you are very specific about what you are doing, not wishy-washy, otherwise it will be really hard for others to follow you.
You can lean into someone and get their support, particularly if you're clear about your intention to lean and your willingness to be leaned into also.
Don't fall back on old patterns that might keep you from discovering what's possible now.
Admit when you are afraid or stuck and ask for help.
Notice when you feel most alive and follow that impulse.  Trust that others will discover it too and will respond.
Notice when your opinions get in the way of creative problem solving.
Listen to others not just with your ears but with your whole being.
Don't spend a lot of time talking about how to approach the problem.  Try three quick variations and then decide which one you liked best.
When you discover the group mind, the collective, allow it to flow naturally without feeling the need to artificially imposing a "new idea".
Agree on group norms but break the rules when they don't seem to work for you.
Make a clear opening and ending.  Don't let either be mushy.
Stay connected to the group.
Give enough time to let things develop.  Don't abandon something interesting too soon.
When you see an opening — a doorway — take it and as you go through let it affect you.
Play!  Have fun!
This list is just a start.  My guess is that I'll be adding to this over the next week or so, so check back here again when you have a chance.