From its vast archive of photos and questions offered through our daily photo blog that ran from 2009 to 2014, Revealed Presence has developed two types of photo card decks for use in different circumstances:
Intuitive Directions™ is a tool for groups and individuals to use for reflection, problem solving, journaling, and daily inspiration. This tool offers an accessible way to gain insight into the unknown. Nine years in the making, it contains a pair of dice and seven decks of 25 photo/question cards each, organized around seven themes.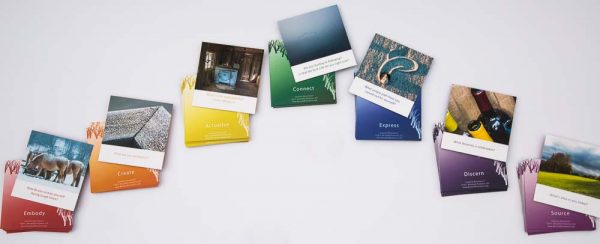 Revealed Presence® Story Card decks consist of 25 or 50 cards the size of standard postcards.  Each card has an image on the front side and a question on the back.  These cards are ideal ice-breakers or conversation starters.  They are designed to elicit stories and work beautifully in group settings, but can also be used to create more intimacy in one-on-one conversations or to deepen individual meditation practices.