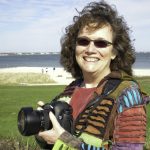 With a minor in Dance as part of my Bachelor's Degree from Montclair State College (1975) and a specialization in Expressive Arts Therapy as part of my Masters degree in Counseling Psychology from Lesley College (1993), I have integrated my interest in both dance and photography in ways that give my audiences a direct experience with my images.
I have exhibited in multiple venues throughout the Upper Valley region of Vermont and New Hampshire, including Dartmouth Hitchcock Medical Center (DHMC), Northern Stage, Artistree Gallery, AVA Gallery, Long River Gallery, SculptureFest, the Norris Cotton Cancer Center, the Norwich Historical Society and the Southern Vermont Art Center in Manchester.  My photographs are included in permanent collections at DHMC,  on the donor wall at Northern Stage, The Woodlands (retirement community) and at Open Door Workshops as well as many individual collectors.  I have also taught photography both to the general public and to people in difficult circumstances, and to two groups of people during the COVID 19 shutdown in the spring of 2020.
Shortly before the beginning of the pandemic, I began to incorporate film into my work and have exhibited both my photos and films at AVA Gallery and JAM/CATV along with a dance performance interacting with the artwork. This year (2023) I served on a panel judging the film shorts for the White River Film Festival
As my video work expands, I now consider myself a documentary filmmaker.  I've just finished a film about a local general store and am now working on a film about a day camp that integrates expressive arts, mindfulness and empowerment activities into their curriculum and programming.
I'm also beginning to offer Family Legacy Videos to people who want to share with future generations what have been the key threads in their life or their most meaningful experiences.  More on this offering in the next several months.
Links below will take you to samples of my photography and films.