An innovative approach to gaining insight and clarity when you are faced with uncertainty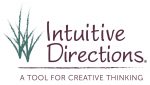 Intuitive Directions® is a tool for groups and individuals to use for creative thinking, reflection, problem solving, journaling, and daily inspiration. This tool offers an accessible way to gain insight into the unknown. Nine years in the making, it contains a pair of dice and seven decks of 25 cards each, organized around seven themes.
Embody (red)
Create (orange)
Actualize (yellow)
Connect (green)
Express (blue)
Discern (indigo)
Source (violet)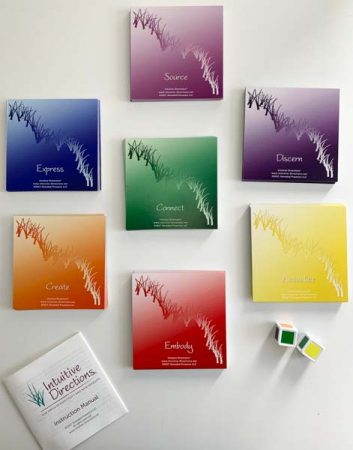 Each card has an image and question specifically chosen for its respective deck. The cards are designed to help you break out of patterned ways of thinking. Rolling the dice introduces an element of serendipity leading to themes that might provide fresh perspectives. Questions invite curiosity and create openings in our thinking. Images engage our imagination, draw on past experiences, and can lead us into further clarity.
The Intuitive Direction cards offer prompts to inspire you. They can help you think out of the box to solve problems and to discover, reflect on, and express your truth. Above all, they can offer a doorway into imaginative, creative and intuitive thinking.
more information and instructions. . .
see examples. . .
Price: $69
Buy
When to consult Intuitive Directions
When you want to be inspired:  Do you feel stuck and need inspiration in order to move on?  Do you need something to think about that shifts your perspective? Prompts for journaling? Daily inspiration?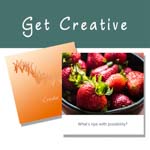 When you want to become more creative:  Have your creative resources dried up?  Are you experiencing writer's block? Are your meetings falling into a boring routine?  Do you want new ways to start meetings to bring people present into the room?  Are you looking for a creative and meaningful way to get to know each other?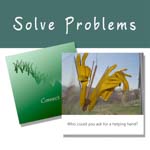 When you want to solve problems:  Are you or your group trying to make an important decision and need a new perspective?  Are you feeling stuck on a project?  Are you spinning your wheels around an issue?  Can't get beyond a certain point?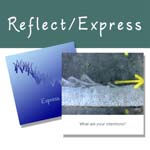 When you feel the need to reflect and express:  Do you want to find a way to dive deeply into an issue that's troubling you?  Would it be helpful for your group to take the time to really consider the issues at hand? To be thoughtful? Not to skim the surface looking for the quickest answer/solution, but to listen to each person's reflections on the issue, brought in by new perspectives?
more information and instructions. . .
see examples. . .
Price: $69
Buy Intuitive Directions boxed set

Related articles that explore some of my thinking as I developed this deck: