Speaking Presence Facilitator Training
I am beginning to develop a train-the-trainer program for people who are interested in expanding their skillset to include public speaking coaching.  The details of this program are yet to be determined, but if you think you'd have an interest, please do email me to find a time to talk about what you are looking for and how we might design such a training to meet your needs.
Workshop Design and Facilitation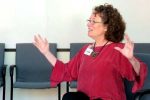 I have years of experience designing and facilitating experiential classes and workshops on a range of subjects that include  human development, stress management, wellness, public speaking, yoga, and photography.  I've discovered that it's an art to create experiences that invite people into the group and engage them fully with the content. If you would like assistance in designing workshops that work, please email me to explore ways that I might be of help.