(Welcome to the Speaking Presence section of the Revealed Presence website which replaces my original public speaking website, RiverWays.com.)
Overcome your fear of public speaking
I first learned about presence as a dancer in college at a time when I was terrified of public speaking.  
It was only many years later when I encountered a process developed by Lee Glickstein called Speaking Circles® that I realized that I could transcend my fear of public speaking and begin to tap back into the quality of presence I had experienced as a dancer.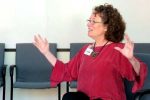 In my 18 years as a public speaking presence coach through my company RiverWays Enterprises (which is now a division of Revealed Presence LLC), and using the Speaking Circle approach as a springboard, I have worked with many hundreds of clients helping them develop an authentic, confident, and connected public speaking presence.
Seven strategies for developing your public speaking presence
In refining and distilling what I've learned from this work about presence and public speaking, I've identified seven simple strategies that if practiced regularly in daily life can lead quite seamlessly to an effective presence as a speaker and leader:
Slow down… Breathe…
Recognize that where you put your attention that's where energy goes
Feel your feet on the ground
Think of it as a conversation not a presentation
Ask yourself, how can I be of service?  Not, how can I show my expertise?
Smile, both to be kind to yourself and to engage your audience
Trust the power of silence
These seven strategies are embedded in all the work I do with private coaching clients and are built into the curriculums of the public speaking workshops and classes that I teach.
How I can help you become a more confident public speaker
Read more to learn more about my approach, my coaching services, the public speaking resource materials that I offer, and a vast collection of articles that I've written in my SpeakingPresence blog.
We are centrally located in the Upper Valley region of Vermont
and New Hampshire close to the intersection of Interstates
89 and 91 and Norwich/Hanover. As such we are in in the heart of New England
and close to Boston and all of Massachusetts, Vermont, Connecticut,
New York and Maine. 
Travel time from:
Albany, NY — 2.75 hours
Boston, MA — 2.25 hours
Brattleboro, VT— 1.25 hours
Burlington, VT — 1.5 hours
Concord, NH — 1 hour
Hartford, CT — 2.5 hours
Portland, ME — 3 hours
Portsmouth, NH — 2 hours