Current exhibits:
SculptureFest
September 3 – Until summer 2017:  Opening September 3
King Farm, Woodstock, Vermont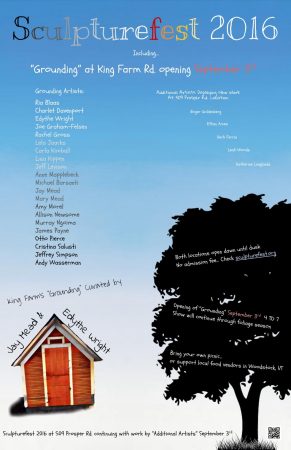 I have been a long time fan of King Farm and the annual SculptureFest in Woodstock, Vermont.  I have frequently visited, taking photos of the many intriguing aspects of this old farm, including the artwork of other artists.  But, as a photographer, I could never quite figure out what kind of installation I would be able to do in a show that features sculpture.
This year I was delighted to be invited to do an installation in the rundown cabin that's on the property.  It's been fun taking on this project as it's given me the opportunity to take an artistic leap and work photographically in new ways.
My installation occupies two rooms in this funky old cottage and with one room to the red chair you see in the foreground. The installation is entitled "In Situ".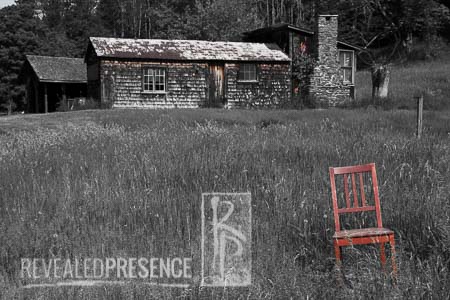 To get a preview of some of the images I'll be featuring check out a couple of my red chair blog posts:
You might also enjoy a video I posted in my blog of the exhibit dancing in the wind.
Here is my artist statement for this exhibit:
In Situ
Carla Kimball, Photographer
Artist's Statement
September, 2016
For more than seven years now, I have worked with a specific photographic approach, capturing images of ordinary things without manipulating the environment in any way.  Early this summer I was invited to participate in this year's SculptureFest, with the overall theme of "Grounding".   Sculpture and photography?  I was, at first, at a loss to figure out how I could blend the two modalities, but excited with the challenge and the opportunities that began to bubble up to the surface. It was also suggested that I work with this funky old cabin, which I had often photographed in past years and which, in many ways, is a sculpture itself.
In the early months of thinking about this project, I visited the farm several times, trying to come up with a way capture the uniqueness of this place, the land, and the cabin. On one of my earliest visits I noticed a well-used straight back wooden chair placed against the outside wall of a barn and was struck by the contrast between the red color of the chair and the weathered, textured grey of the old wood. On my next visit I found that this same chair had been moved and placed inside a barn with the backdrop of slats of light coming through the darkened wood at the back of the barn. Again I was struck with the contrasts.
So, the idea came to me to work outside the parameters of my usual photographic constraints, by making the red chair the focus of my photography and moving it around to different locations on the farm. I was then able to capture the incredible lines, textures, and light of the farm in black and white without making them the overt subject of the image. And, finally, I decided to print my images in large format on fabric, which gave me a way to encourage viewers to literally "walk through" the images, which, for me, creates the sculptural photographic effect I was searching for.
This installation is a blend of found and moved objects and old and new images. For me, it captures a bit of the history of the cabin as well as a sense of King Farm as a place.
Carla Kimball
Past Exhibits
Healing with Art
July – November, 2016
Lebanon, NH
This time around, the Healing with Art folks dedicated an entire wall to my photos.  I'm so pleased how my three collages from the White River Junction Treasure Hunt collection look in the reception area: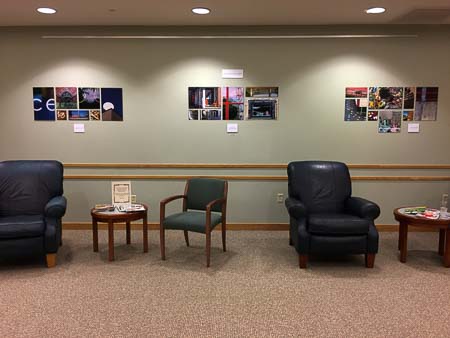 Community->Conversation->Collaboration
An Exploration into the Art of Connection
Northern Stage, White River Junction, VT:  January – July, 2016
I am absolutely delighted to announce the opening of my new exhibit in the lobby of Northern Stage's beautiful new Barrette Center for the Arts in White River Junction, Vermont.  This is a dream exhibit for me, where I've been able to showcase what I consider my best work and several collaborative pieces I've done with fiber artist, Cindy Heath.  The show also features an amazing new collaborative fiber art piece created by Cindy and another fiber artist, Margaret Sheehan.
The exhibit was up from January 30 to May 8 in both lobby's and parts of it will remain in the upper lobby thru July 1.
Here is my artist's statement:
Carla Kimball, Photographer
Artist's Statement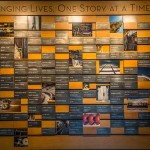 When people ask what kind of photography I do, I say I find beauty in the ordinary. One of my most exciting recent projects was the wonderful opportunity and privilege of photographing the construction process as this beautiful new theater was being built and to have my images included on the donor wall and space naming plaques. Coming out of that experience, I was delighted when Northern Stage then invited me to put together an exhibit for this Winter/Spring period in conjunction with their overarching theme for the season of community, connection, and collaboration. This exhibit is a response to these themes.
Community: The images WRJ Treasure Hunt series displayed along the Gallery hallway were all taken within three blocks of the theater over a period of 5 years. They are snapshots of intimate encounters with this neighborhood. As I culled through my images for this part of the exhibit, I discovered several treasures that I'd never considered before. With this series I was also hoping to give the viewer a chance to experience White River Junction in a new way. This part of the exhibit was removed on May 10 to make room for another exhibit.
Circles and Curves
Conversation: I have added this theme because conversation is such an integral part of connection. My hope is to spark conversation throughout the exhibit. To this end, each of the individual photographs scattered throughout the exhibit are coupled with a question which you can find in the label below them. These images and questions are drawn from my daily photo blog and are intended to elicit conversation and storytelling.
What are you most passionate about?
Collaboration: Over the past year or so, I've had the pleasure of collaborating with fiber artist Cindy Heath. She initiated the process by creating a series of quilted pieces moving from replication to abstraction in response to one of my photos. Titled On My Path, this piece is hanging in the upstairs lobby. This first work was the beginning of a wonderful series of collaborations which you'll see scattered throughout the exhibit. When Cindy was invited to include some of her own work in the exhibit, she chose to collaborate with another fiber artist, Margaret Sheehan, to create their amazing piece, Community Voices, hanging at the top of the stairs.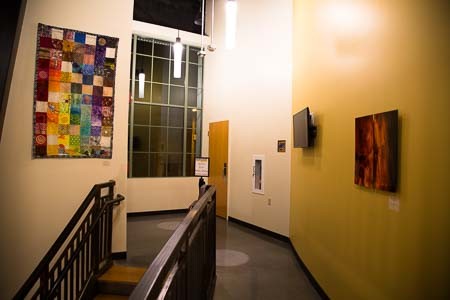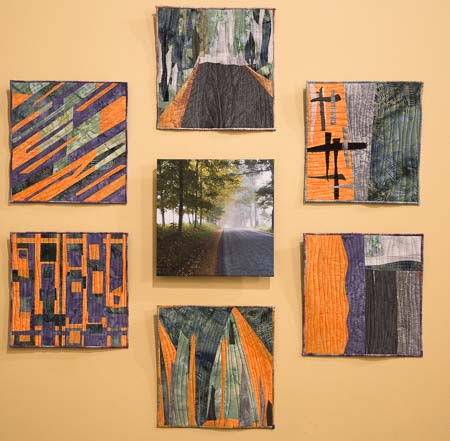 Embedded within each of these themes is our ability to connect with ourselves, each other, the theater, and the community that surrounds us.
With much gratitude to all the folks at Northern Stage for this opportunity,
Carla Kimball
January, 2016
Norwich, VT
Biographies
Carla Kimball
Influenced by the Buddhist practice of Miksang photography but with no formal training in the arts, Carla Kimball is especially intrigued by the inadvertent beauty of everyday moments. Drawn from her 5 year daily photo blog, RevealedPresence.com, her photo collections of ordinary beauty have been exhibited at the Hotel Coolidge, Dartmouth-Hitchcock Medical Center, and the Norris Cotton Cancer Center.   Her images are permanently on view at DHMC and Northern Stage.
Carla is a teacher at heart, and to this end, she teaches a photography class entitled "Seeing with New Eyes".   Carla is most interested in enhancing the lives of people with life challenges, particularly in the healthcare field, by helping them find ways to tell their stories through their photography. In the past, she's taught a variation of this class to people with spinal cord injuries, and most recently, a program at the Aging Resource Center for people with early stage Alzheimer's and their care partners.
Cindy Heath
Cindy Heath is a self-taught fiber artist with more than 40 years of experience making high quality traditional and art quilts, fiber art wall hangings, and commissioned works. She has studied art quilt design and abstraction with fiber artists Sue Benner & Katie Pasquini Masopust, and has taught quilting and art to children and adults since the late 70's. Through the process of applying varying levels of fabric layering, abstraction techniques, and creative threadwork, movement becomes an important element in her art work. Cindy is a member of the Surface Design Association and Studio Art Quilt Associates, and her work is exhibited in galleries and private collections in New Hampshire and Vermont. She lives and works in Plainfield, NH.
Margaret M. Sheehan
Margaret M. Sheehan has been a fiber artist for over 25 years. Originally from Massachusetts, Margaret first attended the Cleveland Institute of Art and then transferred and graduated from the Philadelphia College of Art with a BFA in Graphic Design. She worked in computer graphics for several years before switching from a computer to a sewing machine for her art.
Margaret moved to the Upper Valley in 1989. She has exhibited her work in many venues, most notably the League of New Hampshire Craftsmen Hanover Gallery, where she also teaches. Her foray into larger outdoor fiber sculpture brought her more attention when her prayer flag installation from Sculpturefest in Woodstock VT, was photographed and included on the Valley News Arts page. That fiber installation was also featured one summer at the Adrian Duckworth Museum in Meriden NH.
This is her first collaboration.

Healing with Art
April – July, 2016
Lebanon, NH
Once again, Cindy Heath and I have collaborated on our fourth piece with the title "Lines in Winter" and we feel so privileged to have it on exhibit at the Norris Cotton Cancer Center at Dartmouth Hitchcock Medical Center: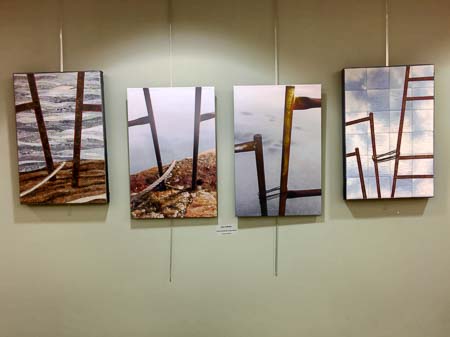 January – March, 2016
Lebanon, NH
Once again, I'm delighted to have several pieces on exhibit at the Norris Cotton Cancer Center at Dartmouth Hitchcock Medical Center as part of the
 program.  This time around I'm really pleased with a new collaborative piece that I've done with fiber artist, Cindy Heath, entitled Mud Season Abstracts.
January – April, 2015
Lebanon, NH
I am delighted to announce that several of my photos are currently on exhibit at the Norris Cotton Cancer Center at Dartmouth-Hitchcock Medical Center in Lebanon, NH as part of the Healing with Art program.  This exhibit includes images from two of my collections printed on 20″ X 10″ aluminum plates: a series of three studies of entitled Climbing the Wall, and a series of four studies entitled Looking Down.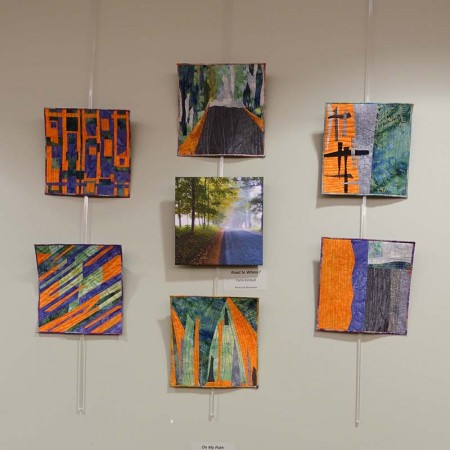 I am especially pleased to have one of my photos serve as the center piece and inspiration for fiber artist Cindy Heath's 6 piece study in abstraction.
I feel truly privileged to be part of this Healing with Art program.  This is my forth time exhibiting in this show for the cancer center.  We've found that art makes such a difference for people who spend time in waiting for treatment.  The artwork give them something to contemplate and appreciate despite the difficulties they face.
Other artists exhibiting in the show include:  Gina Anderson, Kim Gifford, Cindy Heath, Susan Johnson, Lynda Knisley, and John Wood.  Click on the image below to view the exhibit and get a close up of the individual images in the show.
If you ever have a little extra time while visiting the hospital please stop by and take a look.

Dartmouth-Hitchcock Aging Resource Center
March – June, 2015
Lebanon, NH

I'm also so pleased to be the featured artist at the Dartmouth-Hichcock Aging Resource Center for the month of March.  Click here to see their Winter/Spring program brochure featuring some of my photography and announcing the reception on March 9 from 1:30 to 4:00 as well as their vast array of programs and offerings for the aging community.  I feel deeply grateful to be part of this important organization.
Here is a snapshot of how the exhibit looks at the Aging Resource Center. It is such a wonderful and homey venue for my images!
If you ever have a little extra time while in the area please stop by and take a look.
Ordinary Beauty
July 1 to August 10, 2015
Norman Williams Public Library
Woodstock, VT