I'm delighted to announce that I'll be offering a free workshop entitled Intuitive Directions: An innovative approach to gaining clarity when you're stuck as part of Open Door's Lunch and Learn Series in White River Junction Vermont.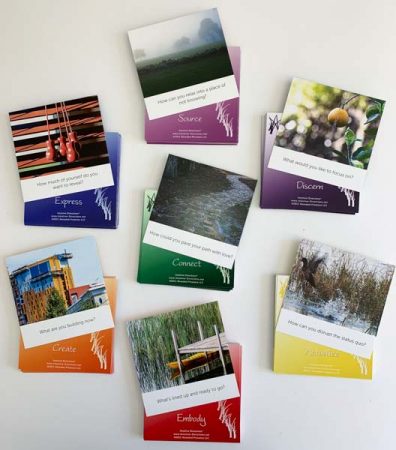 Date: Friday, December 6
Time: 12-1 p.m.
Cost: Free and open to all
Intuitive Directions is a tool for reflection, problem solving, journaling, and daily inspiration.
This tool offers an accessible and fun way to gain insight into the unknown. Ten  years in the making, it contains seven decks organized around seven themes with questions and images specifically designed to break out of patterned ways of thinking and move the energy forward.
Questions evoke curiosity and create openings in our thinking. Images engage our imagination, draw on past experiences, and can lead us into further clarity. Rolling the dice introduces an element of serendipity leading to themes that might provide fresh perspectives.
During this one-hour introduction to the deck, participants will discover the power of image and question as they consider an issue that requires some clarity.  Each person will get a chance to experience the deck as they roll the dice to get a new perspective.
For more information, email me at carla@revealedpresence.com.