I'm delighted to once again be able to install a piece in this year's Sculpturefest.  If you've been following me for a while you might remember that a couple of years ago I had a large exhibit at the same event featuring the red chair. Since that time the same red chair has been the focus of many photographic journeys, often with a troupe of collaborators exploring movement in unexpected places.  If you search for the Red Chair in this blog you'll discover many of the adventures we've been on.
On one foray into the woods last year, we left the chair behind and instead carried a rather broken down red umbrella.  One photo from that journey has taken on a life of its own and has been exhibited in a couple of different venues in prototype form.  Yesterday, I installed the full piece under a barn for this year's SculptureFest.  It's really something to have envisioned an installation and to finally see it come to fruition.  There will be an opening for this exhibit on August 24 from 4:00 to 7:00.  I'll post more updates for this event in the next week or so, but do hope if you're in the area that you can stop by and check out this next adventure Into the Woods.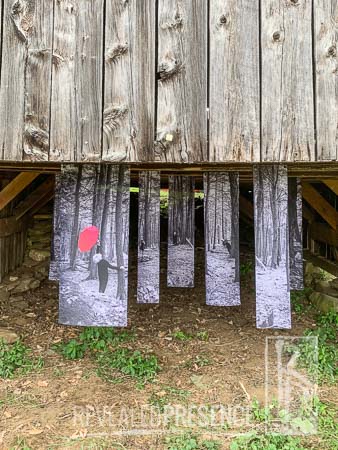 I want to gratefully acknowledge Charlet Davenport and Jay Mead for giving me this second opportunity at SculptureFest, The Jack and Dorothy Byrne Foundation for their generous grant that helped make this possible and Pentangle Arts in Woodstock for their support.