OUR VOICES, BODIES RISING
Beyond Suffrage Toward Women's Empowerment
— a new pandemic Film–
by Peggy Brightman – Director /Choreographer
&   Carla Kimball –  Filmmaker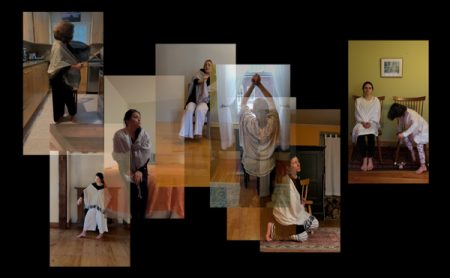 The Grange Theater, South Pomfret, VT
Nov. 6 & 7, 2021
4pm
Suggested Donation at the Door: $10
to benefit Artistree's scholarship fund & defray film production costs
No reservations required.  Seats are available on a first come first serve basis.
 (Proof of vaccination and masks required)
This original and unique pandemic film created by local Vermont artists and performers, marks the Centennial of Women's Suffrage in dance and poetry, and is dedicated to Justice Ruth Bader Ginsburg.  In the fall of 2020, choreographer Peggy Brightman and filmmaker Carla Kimball met to brainstorm how they might collaborate on a video capturing the celebration of women's suffrage in dance and poetry.  Peg had planned this as a "live event"  for Bookstock, but it had to be cancelled, due to the pandemic. Carla proposed a complex plan for creating a new genre of "self-distanced" film/video, reversing the traditional working method of choreographers, dancers, and film-makers.
For the libretto for the project, Peg invited area poets to submit poems exploring aspects of women's struggle for empowerment; thirteen area poets contributed twenty poems for scenes, which Peg arranged into five acts.
Through word-of-mouth and the Vermont Dance Alliance, Peg assembled a diverse and multi-generational cast of some 20 dancers and actors; Upper Valley area musicians contributed to a musical score to heighten the emotional resonance.  Overall, 40 participants — including actors, dancers, poets, and musicians from the wider community —helped to create this film.
For each scene (illustrating a poem) Peg emailed instructions to actors and dancers, who used smartphones to create and film one-minute scenes in their own homes– kitchens, bathrooms, bedrooms or back yards.  These videos were sent to Carla for initial editing; for months, filmmaker and choreographer collaborated on final assembling and editing the scenes via zoom.
In the final two weeks of May 2021, in chilly weather under cloudy skies, it finally became possible to film unmasked dancers, actors, and poetry readers outdoors on the scenic hillside behind ArtisTree in South Pomfret, VT.  The film had its premiere in July at The Barn, in Corinth, VT.
Our thanks to Pentangle Arts Council of Woodstock, and to the generous support by the Jack and Dorothy Byrne Foundation, and an anonymous private donor.  ArtisTree provided the  beautiful hillside venue for filming.  This film is dedicated to Justice Ruth Bader Ginsburg, and her courageous and spirited resolve to achieve dignity and liberation for all.
Each of the two Grange film screenings will include a showing of the film, followed by a discussion with filmmakers Brightman and Kimball, joined by dancers, actors, and poetry readers, who will demonstrate how this endeavor came into being.